Eclipsed by Corruption
Revelations:
Only one day after the Murdoch Empire's new Sunrise on Sunday got launched, the blinding glare of spin and hype from News International was badly eclipsed with startling revelations by the senior Scotland Yard investigator, Deputy Chief Constable Sue Acres, of widespread and systematic corrupt payments by journalists over many years to various public officials in Britain.
Hardly had the champagne bottles been emptied at the Smut on Sunday launch party when the shadow of corruption emerged again at the Leveson inquiry underway in London when the Deputy Chief Knackerette of Scotland Yard gave evidence to the Inquiry set up to investigate phone-hacking, corrupt payments to officials by employees of the now defunct Murdoch smutrag "News of theWorld" and other sleazebags of the whore press in Britain. DCC Sue Acres outlined a long list of illegalities and corrupt payments not only in her own stables at Knackers of The Yard but across government departments of Defence, Health and top civil service offices at the heart of British Government with large sums mentioned of six-figure amounts paid over years of sleaze and wheeze at the former NOTW bunker in Wapping.
"Murder, brutal Murder"
Further shock emerged today when former
BBC Crimewatch
presenter
Jacqui Hames
gave evidence to the Leveson Inquiry
: When a senior detective re-opened
a notorious murder inquiry
, the suspects were able to intimidate his wife and family with the help of an executive
Making one of the gravest Leveson allegations so far, the former Crimewatch presenter Ms Hames, the then wife of Detective Chief Superintendent Dave Cook, broke down in tears as she accused the paper's then editor Rebekah Brooks of covering up the real reason why her family were targeted.The intimidation was carried out after an offer of a £50,000 reward on Ms Hames's Crimewatch programme for fresh information on the murder of Daniel Morgan, a partner in a private detective agency. Ms Hames said: "These events left me distressed, anxious and needing counselling and contributed to the breakdown of my marriage."

Inquiry Judge Lord Leveson told her she did not have to continue. But, having recovered her composure,Ms Hames, a former detective herself who said she had loved her job, told the inquiry: "No one from any walk of life should have to put up with it. I would hate to think of anyone having to go through what we have had 10 years of."
She alleged that former NOTW executive Alex Marunchak colluded with suspects who ran the NOTW's private detective operations. They put the family under surveillance and targeted their phones for hacking. Brooks, as editor, failed to act when confronted with the evidence in 2003, Ms Hames said, and Marunchak was even subsequently promoted.
After the broadcast, Cook got official intelligence that the suspects planned "to make life difficult for him", and the programme was sent an email suggesting Ms Hames was having an affair with a senior detective. Two vans stationed outside their house were eventually traced back to NOTW.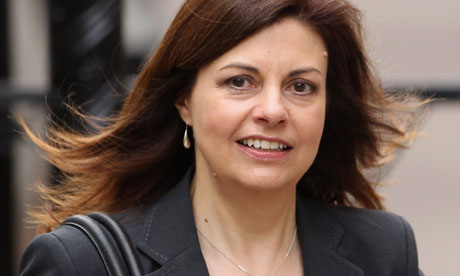 Jacqui Hames
Police at
Scotland Yard
did little to protect the couple. Instead, the head of PR at the Met,
Dick Fedorcio
, spoke to
Brooks
, who made the "absolutely pathetic" claim that the tabloid had targeted couple because of the alleged affair. "We had by then been married for four years, had been together for 11 years and had two children,"
Ms Hames
said.
In a meeting with her husband, she said Rebekah Brooks "repeated the unconvincing explanation that the News of
the World believed we were having an affair". Ms Hames said: "I believe that the real reason for the NOTW placing us under surveillance was that suspects in the Daniel Morgan murder inquiry were using their association with a powerful and well-resourced newspaper to try to intimidate us and so attempt to subvert the investigation". She told the inquiry that it was impossible not to conclude that there had been "collusion between people at the News of the World and the people who were suspected of killing Daniel Morgan".
Private investigator, Jonathan Rees, alleged to have earned £150,000 a year from the News of the World for supplying illegally obtained information, was eventually accused of Morgan's murder but the trial collapsed and he was cleared last March.
These latest revelations, which have shocked the British establishment, will get an airing in the House of Commons at Westminster later today when
Tom Watson MP
, who has relentlessly pursued the nest of vipers at the centre of the Morlock Empire, will reveal even more in an emergency debate authorised by the Speaker. This latest scandal has pulled the rug from under Morlock senior's expensive effort to replace the despised
NOTW
with his "Smut on Sunday" dirtrag.
FearFeasaMacLéinn
Baile Átha Cliath/Dublin
29 Feabhra/February 2012